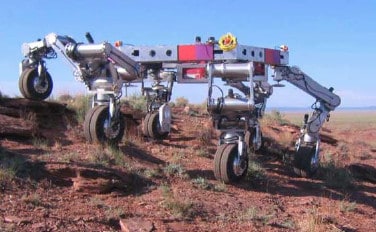 The ATHLETE Rover is a mixture of a wheeled rover and a walking robot, or better a walking truck, created by engineers at Jet Propulsion Laboratory to be used for manned and unmanned missions to the moon. ATHLETE, which stands for All-Terrain Hex-Limbed Extra-Terrestrial Explorer, is a six-legged walker that is taller than a person. The walker also rolls since it has powered wheels at the end of each limb. This allows the ATHLETE great mobility over changing terrain.
An innovation that comes from the leg-wheel combo is the Sliding Gait, which is a mode of transport more efficient than walking that can be used over loose or steep terrain where driving is impossible. Sliding Gait uses some of the articulated legs as anchors while others do the walking or sliding, like skating. This allows for quicker more responsive movement of the robot. The ATHLETE is to be remote controlled from earth or by astronauts on the moon, so the many different ways the machine can travel give more options to a remote user to navigate tricky terrain.
Motion planning is critical to the operation of ATHLETE because it is both a walker, a rover and something in between, so it takes some work to plan out each step. Footfall is the software that assists the remote driver in planning each step. It uses "telemetry from the robot, such as joint angles and stereo camera image pairs, and generates 3D terrain map," computes a sequence of movement commands and presents an animated preview to the driver. Footfall makes it possible for this big robot to really move.
Citations:
"FootFall: A Ground Based Operations Toolset Enabling Walking for the ATHLETE Rover," by Vytas SunSpiral, Daniel Chavez-Clemente, Michael Broxton, Leslie Keely, Patrick Mihelich, David Mittman, and Curtis Collins.
"Sliding Gait for Athlete Mobility," NASA Techbrief, This work was done by Julie A. Townsend, Curtis L. Collins, and Jeffrey J. Biesiadecki of Caltech for NASA's Jet Propulsion Laboratory.
Read more about the ATHLETE Rover at JPL's Website
https://mechanicaldesign101.com/wp-content/uploads/2014/11/Athlete-Rover-Nasa.jpg
232
376
Chris McCarthy
https://mechanicaldesign101.com/wp-content/uploads/2016/07/mechanical-design-101LOGOf.png
Chris McCarthy
2014-11-23 20:09:59
2022-07-08 19:33:21
JPL's ATHLETE Rover Walks, Rolls, and Slides